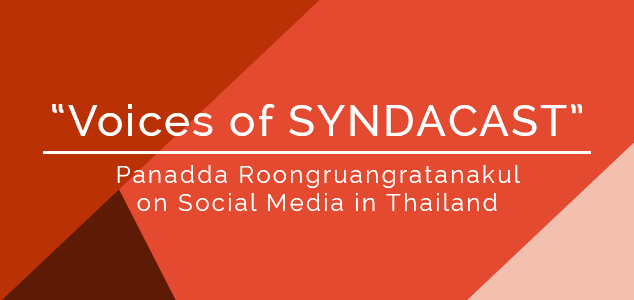 "Voices of SYNDACAST" – Panadda Roongruangratanakul on Social Media in Thailand
At Syndacast, we feature a colorful spectrum of individuals from across the nation and international borders to be a part of our growing community. Everybody at Syndacast is unique and excels in what they do best. We possess a handful of talented digital marketers, programmers, graphic designers, sales, client services personnel, and knowledgeable online marketing gurus. Our digital family continues to expand, welcoming newcomers into the realm of online marketing.
Our newest addition to Syndacast's Content and Optimization Team is Panadda Roongruangratanakul (Namtan). Being new to the digital forefront, we asked Namtan about what is the importance of social media, why she uses it and offers insightful predictions on what's next on the social media front in Thailand.
Today, most people around the world possess more than one smart device, whether it's in the form of a smartphone, tablet, or phablet. Needless to say, each of these devices features pre-installed social media apps for users to use to stay connected with friends, family, and work. The reasons why people use social media vary from person to person and most interestingly, each person has their purpose why they use social media in the first place.
Q: Why do you use Social Media?
Namtan happily explains Facebook is an incredibly convenient tool or platform to have, to stay in touch with friends and loved ones. She enjoys staying up-to-date and catching up on Thailand's local news and trends by using Facebook's "See First" option. The option allows users to see feeds that matter, especially from friends, shops, or fan pages she follows. Additionally, as an avid online Facebook shopper, Namtan expresses her convenience of using Facebook as a means to get connected with local Thai shops. She explains, "It provides an ideal channel to get in touch with shops without using my minutes to call them. I can ask them about anything; their product, prices, and location that can be answered in one message."
Another social media outlet Namtan uses is LINE, the social media messaging application used to stay in touch with family and friends. Over the years, LINE evolved into a must-have app in Thailand, due to its plethora of functions; voice calls, stickers, Timeline updates, games, and more. Additionally, LINE extends to both local and international celebrities, brands, and companies allowing their fans to stay in touch via chats and notifications.  Due to the application's massive success, LINE released a handful of helpful apps (LINE@, aillis, LINE Dictionary, and more) to help users improve their English, touch-up photos, or record videos.
Namtan discusses another app she uses called Swarm by FourSquare. While it doesn't function as extensively as LINE or Facebook, she says using the app is convenient; Swarm allows her to check-in into places that only friends and family can view her current location. She adds, "Using Swarm offers a sense of security. I can display my location to only my friends and family and in case of emergencies; they can track down where I am."
Q: What do you use most and why?
Namtan explains she uses Facebook the most simply because most of her contacts use Facebook, allowing her to catch up with friends and conveniently communicate with them.
Q: What's your prediction on Social Media in Thailand?
Namtan believes the next social media giants will be Instagram and Pinterest. According to shorter attention spans, people process visuals faster than text. Stickers used in chat applications will become more prominent across platforms and self-expression will be pushed to the max. Additionally, with more and more shops opening on Facebook, many shop owners have both LINE accounts, allowing them to communicate efficiently with their customers on B2C basis without the middle man.