The Great Digital Marketing Leap of 2015
The fruitful productivity of the first 6 months already passed and agencies are still busy keeping up with new trends and online marketing techniques!
A recent infographic by the Digital Advertising Association (Thailand) (DAAT) revealed a giant leap in the digital marketing world. Apparently, the advertising budget on digital media is predicted to jump by 62% this year, which equals to 9,869 billion baht. The research was conducted based on data collected from the top 20 agencies in Thailand. In these latest figures, we see that Facebook ads and instant messaging are added.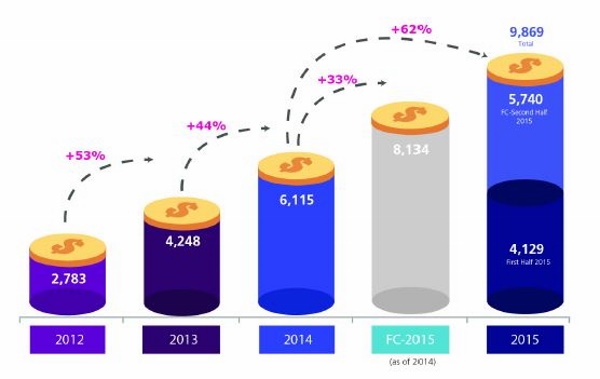 Credit: daat.in.th
Dr. Arpapat Boonrod, the managing director of TNS Thailand, stressed on the overwhelming digital media usage of Thai people. As such the DAAT has increased their sharing of insights on digital trends and statistics for Thailand to twice a year.
The top 5 industries with a high possibility to spend the most in the digital world are communications, motor vehicles, skin care preparations, banks and hair preparations. They are willing to spend approximately 1,308 million baht, 969 million baht, 665 million baht and 583 million baht respectively. Marketers should also keep their eyes on pet foods & pet products as well as sundried products as they have higher than 300% forecasting growths.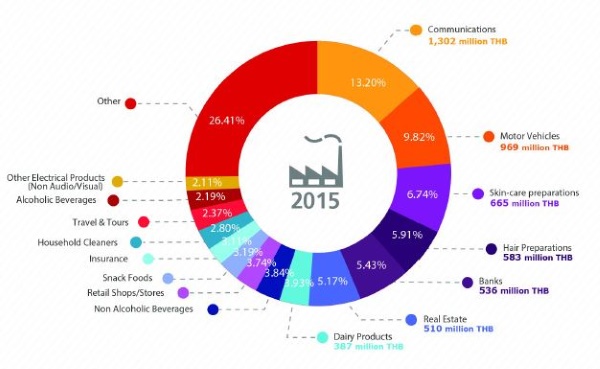 Credit: daat.in.th
In terms of channels, banner (Display Advertising), Facebook and search are still top stars among users. Although still widely used, banner saw a significant drop from 41% in 2013 to 28.1% in 2014. However, it is forecasted to stabilize its position at 28.7% in 2015. On the other hand, Facebook has raised its popularity from 16% last year to 21% this year.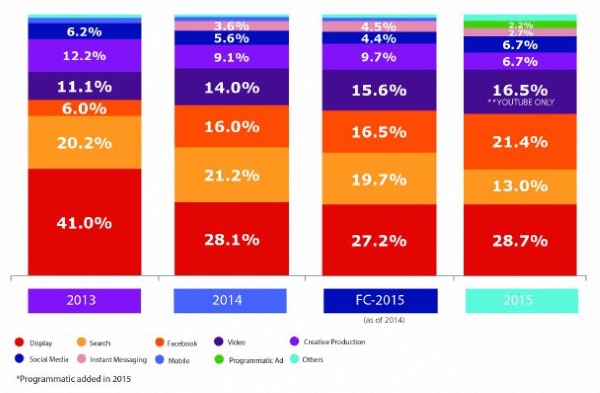 Credit: daat.in.th
In short, the growing number of people using a mobile phone for internet browsing will help promote additional social media value. We can expect the social war on Facebook (as usual). Brands armed with powerful posts and great content will lead the frontline.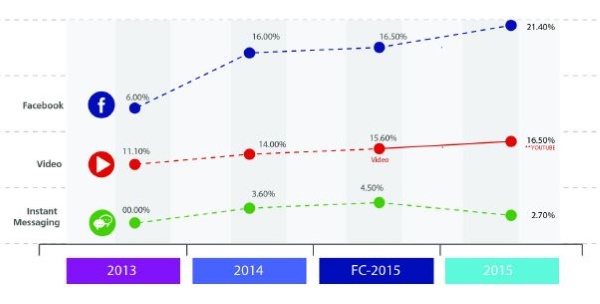 Credit: daat.in.th
If you want to review your digital marketing strategy or to outstand yourself among your competitors, please free to talk with one of our experts here.