Is Thailand Ready for Instagram?
Let's begin with this basic question like what do you know about Instagram? An app for high definition photos? For teenagers who love selfie? No! Instagram is not an app just for showing off. It is a place people can look for inspiration and creativity through visual language. People can get connected around the globe and how we communicate is simple! Just capture and share.
Instagram was born in 2010. He is a baby with lovable charisma as he gains warm welcome from the earth just like when we embrace Facebook. It is notable that Facebook is already 12 years old in 2015, but some online marketers fortune that the little Instagram will seize the social media throne one day. Whether they are friends or frenemies, it is note-worthy for us to prepare for Instagram.
Looking at the timeline, it takes less than five years to become the app almost everyone has! Why? I believe the Instagram users loves to see and to be seen. They have a chance to be photographers despite the level of amateur to the professional. Some users definitely own smartphones, DSLR, mirrorless lens, retro cameras, compacts and etc. Things get snapped and shared easier when you carry a multifunctional smartphone all the time. Just tap-tap and you can give love to the photos you like(or the person who uploads it A-hem!)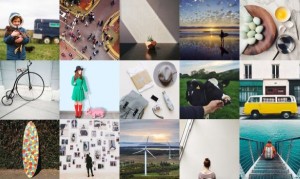 Credit: Instagram Thailand
Recently, some people in Thailand tend to read less whether it is because of their hectic schedules or their habits. Plus, according to the scientific research, the human brain can receive the data via photo faster than text. No wonder why Instagram becomes popular among Thai people. The next feature is its minimalism. Instagram prioritizes on large photo showcase than scatters the button all over the place. It has fewer buttons, but it teams up with great feature like filter adjustment. Instagram becomes the real boom when it applies hashtag. Although the former trendsetter is probably the little blue bird Twitter (since it cracked the shell opened in 2006), but we have to admit the truth that Instagram is a paradise for hashtag lovers. Instagram also realizes this, so it develops two more projects called "Weekend Hashtag", which Instagram team will select the outstanding photos, and "Throwback Thursday", which allows the users to recall their nostalgic memories.
So what's next? Instagram is another platform we, online marketers, can reach the target groups especially when we use the hashtag. If our photo content is good enough, we will get the new audience. We can also use 15-second video and "Carousel" feature to advertise the products and services. We have to keep this in mind although Instagram has released "Sponsored" features, Instagram itself still focuses on the content, not the sole direct sale. Moreover, the users can just hide the advertisement if they are spammed by advertisement posts. So make sure your photos look great and deliver the message at the same time.
In 2015, Instagram reaches 400,000,000 users, and 7.8 million users are Thai people. As mentioned in the previous article, people tend to spend more time on smartphones, so that explains why 90% of users are still active users. Next time you hop on the public transit, let's see which app they are using. I bet you may see people scroll down through Instagram as Thai Instagram users spend around 20 minutes per day (and on the way to work and back home is the likable time they hold smartphones.)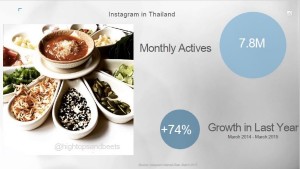 Credit: Instagram Thailand
So here is another chance and channel to get connected with customers. Since this one of the fastest-growing platform among world's remarkable social network is not only for posting photos and videos, we can combine the creativity and marketing to snap, share, hashtag and increase ROI.
If you want to get your products and services hashtaged in Instagram, feel free to talk with one of our experts here