Travel Daily Media Conference Features Syndacast Guest Speakers on the Changing Digital Landscape
November 29, 2013 – Bangkok, Thailand
Travel Daily Media is a renowned website among businesses in the travel and tourism industry. The website (traveldailymedia.com) offers visitors with the latest global news, travel-related information, updates, events as well as travel offers. In addition to recent events around the world, the website features special reports and review of hotels, airlines and cruises.
The group founded in 2006 by Gary Marshall, has over the years, exponentially gained the interest of hoteliers and many other businesses in the travel and tourism industry. Today, it is a dominant force in the international online travel trade news coverage, reaching global audiences in across twenty countries.
Besides news coverage, the website offers readers with a multitude of travel-related content including: Digital publications (eMagazines) for selected regions, along with editorial pieces that touch on local controversies, such as the recent piece on Bangkok's political unrest are also featured on the website's blog area.
Syndacast, one of the fastest growing, performance-driven digital marketing firms in Asia with a strong focus in the travel industry, joins Travel Daily Media's yearly seminar in November 2013 as guest speakers. Anthony G. Preece, Strategy Director at Syndacast, shares his insights on the digital scene, including the 'era of big data' and the revolution in Digital Media Planning and Buying, in respect to Demand Side Platforms and Data Management Platforms. While the company's Content and Optimization Director, Monlamai Vichienwanitchkul shares information on responsive web design and the changing SEO (Search Engine Optimization) landscape, referring to topics such as content marketing and Google's hummingbird algorithm.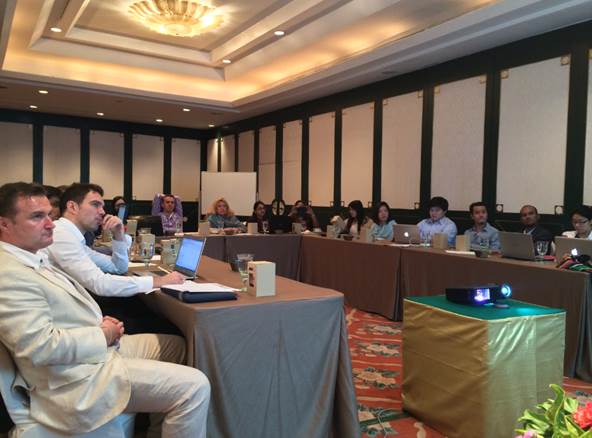 Recent studies on online activities related to the travel industry suggest that digital channels such as online reviews and hoteliers presence on social media is an essential business factor and will only grow in importance. For instance, it is said that more than 40% of online traffic related to travel queries now comes from mobile devices, including tablets, confirming the important shift taking place from desktop to non-desktop devices (Source: HeBS Digital), 44% of travelers use their smartphone to research travel while they're traveling (Source: JiWire Report), typical travel shopper will visit 22 websites in "multiple shopping sessions" before booking a trip (Source: Atmosphere Research Group), and 65% of leisure travelers begin researching online before they have decided where or how to travel (Source: Ipsos MediaCT).