Content Marketing: Under the Microscope
We're almost at the end of 2014 and content marketing is as strong as ever. Trends suggest that content marketing will gain more importance as we move into 2015. In this article, we're going to go back in time a bit to the very beginning to gain a better understanding of where the practice all came from and really dig into the facts and figures this year, followed by an overview of key opportunities and challenges.
A GLIMPSE INTO THE PAST
Content marketing started early in 4200 B.C. when a cave painting was discovered that translates to mean "6 Ways A Spear Can Save You From A Wild Boar." In 1895, John Deere launched the magazine: The Furrow which continues to run under the same name today and available in digital format. It is published in 12 languages and has 1.5 million circulations in 40 countries. In 1900, Michelin launched a 400 page guide: The Michelin Guides which was created to help drivers maintain their cars and find decent lodging while on the road.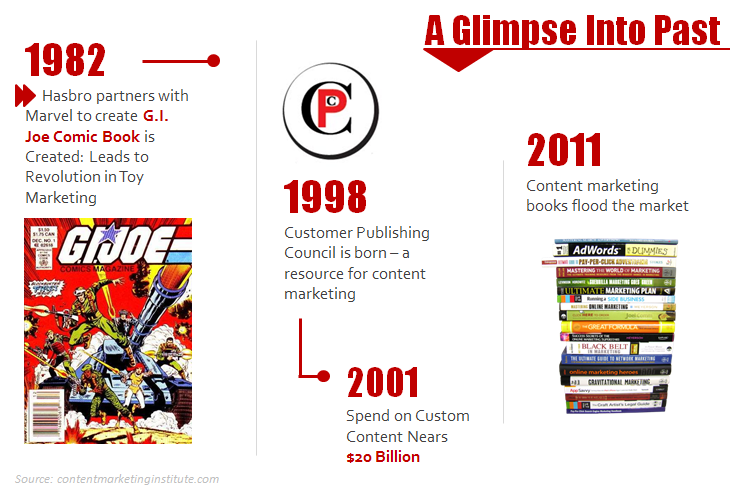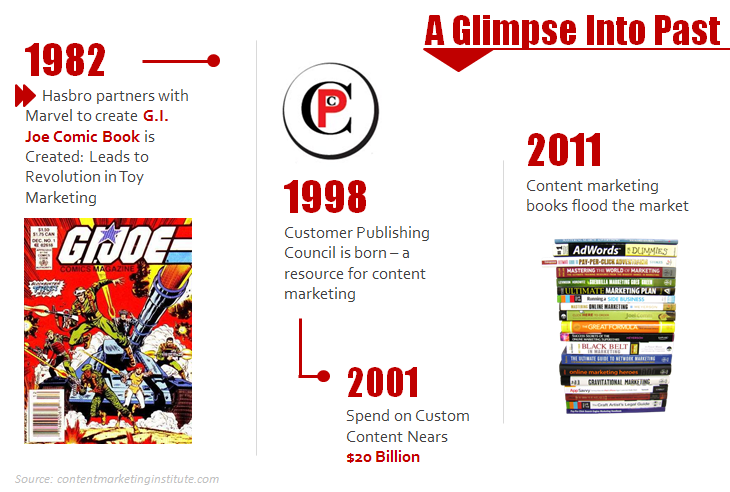 Then in 1982, Hasbro partners with Marvel created the G.I. Joe Comic Book which kick started the revolution in toy marketing. In 1998, the customer publishing council is born, which is an important resource for content marketing with spends on custom content reaching a near $20 USD Billion in 2001. In 2011, we saw a flood of content marketing books hit shelves everywhere.
2014 TRENDS
Mobile – Moving on to our present time; this 2014, what key trends did we see in content marketing land? First and foremost is the big shift to mobile. It's not just about technology but as the volume of internet browsing sees a shift from traditional desktop to mobile devices, it means all your content marketing efforts is being viewed on the small screen. Besides the smaller screens to keep in mind, incompatibilities such as the use of html5 for preparing your content materials pose as new challenges.


Social Media – Social Media is another digital marketing channel with an uphill trend. Social Media and content marketing comes hand-in-hand. While the main goal for social media marketing is to build engagement, you would need compelling content in all its form to make that happen. On the other hand, if you've created great content but you're not distributing it via social media channels then you are limiting the chance of your content going viral. In summary, social media and content marketing are quickly becoming an integrated marketing strategy.
New Channels – It's not really new channels, but more about new opportunities with existing channels. There are two key channels that have been around for a while, and should definitely be embraced by content marketers even more. First is video marketing. The growth of video consumption is crazy, from 10M terabytes in 2010 to 50M terabytes in 2015; not to mention the number of branded videos making appearance in YouTube. By 2012, the top 100 brands (such as Coca Cola, Sony, Apple, Nike and McDonalds) have invested over $4.3B USD in the creation of video assets. The second key channel is traditional email. For many email marketing may seem a bit ancient, but tie it in with great content copies that successfully engages the reader to make a purchase, we're looking at a channel that has ROI as high as over 4300%. For every $1 spent, email marketing returns about $44.25 of the investment. More importantly, 64% of decision-makers read emails via mobile devices and 91% of consumers check their email once a day.
2014 HOT ISSUES
This 2014, we saw a lot of facts and figures that suggest the strategy will only continue to grow over the course of the next few years.
#1 – 35% of fortune 500 CMOs, cited: "coming up with new content as their biggest challenge in 2014".
#2 – The number of web searches on the term Content Marketing is up 400% since January 2011.
#3 – Conversion rates for brands using content marketing are 6 to 7 times higher than those that don't.
#4 – Content Marketing is the top priority for 36% of marketers in 2014.
#5 – Content marketing cost 62% less than traditional marketing and generates about 3 times as many leads.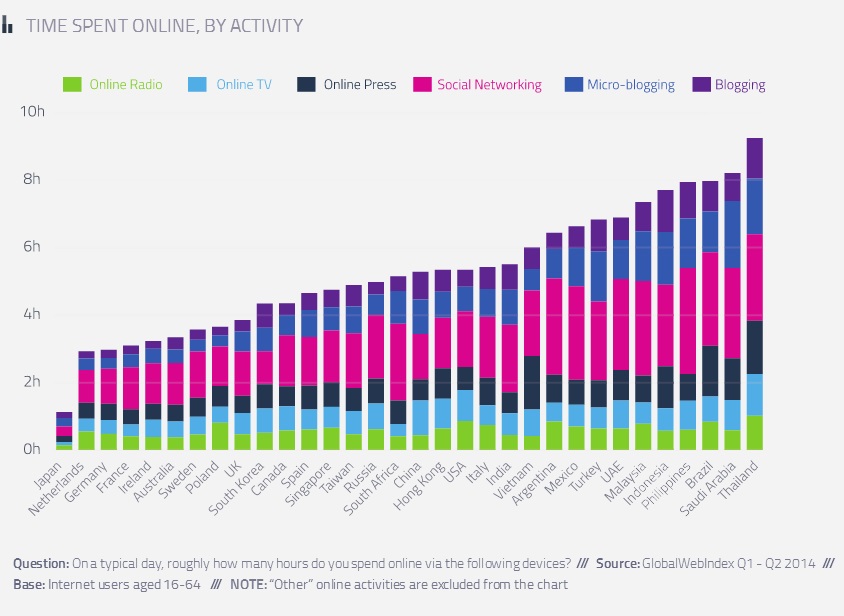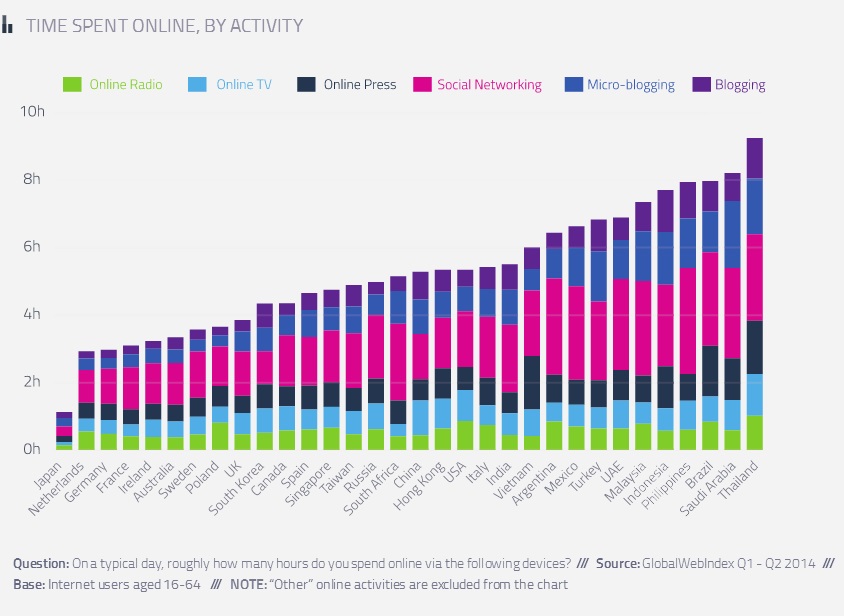 A large chunk of activity that happens online is about consuming or creating content. While, the top 4 B2B content marketing tactic by usage are: social media channels at 87%, articles on your website (on-site blog) at 81%, eNewsletters at 80% and blog marketing at 76% (followed closely at also 76% is in-person events). Consequently, the top 4 B2C content marketing tactics are exactly the same in 2014: social media at 88%, articles on your website (on-site blog) at 78%, eNewsletters at 76% and blog marketing at 72%.
Now that we've gone through the history of content marketing and recent trends, what exactly is content marketing? The digital definition is: Content marketing is a marketing technique of creating and distributing valuable, relevant and consistent content to attract and acquire a clearly defined audience – with the objective of driving profitable customer action.
KEY OPPORTUNITIES
There are 5 key opportunities we want to share with you here:
#1 – Micro Videos: Today's consumer is almost always short on time and the focus today really is about mobile viewing. Hence, short, enticing and compelling branded videos should be considered as part of your content marketing pan.
#2 – Social Blogging: Blogging need not happen only on blogs anymore. Social media websites such as LinkedIn makes social blogging possible.
#3 – Revisit Email Marketing: It may seem ancient but there are a lot of email users to target and this number will only continue to grow.
#4 – Social Media: Integrate content marketing into your social media strategies. The channel will only grow bigger and bigger.
#5 – Optimize for Mobile: This doesn't only mean having responsive websites but the fact that mobile internet users are skyrocketing. You should be optimizing for the 'icons' on the small screen. It's not just about website and content readability anymore.
KEY CHALLENGES
Like another other digital marketing strategy, content marketing has its own set of challenges. Here you listed the top 5 challenges met by content marketers:
#1 – How to be heard above the noise? The rate of online content creation and publishing is growing at enormous rates. The number of eyeballs available to read and consume this content is increasing, too. This means that it's getting harder and harder for brands to be heard in the deluge of content being published every second. Hence, content quality matters a lot in order to stand out, plus it's worth the effort to step-up content distribution.
#2 – You may have a social media manager and public relations representative, designers, writers, campaign specialist, etc, each working separately. In reality, one piece of great content would benefit from mass distribution across all channels, as oppose to your writers simply posting blog articles. In this way, one of the greatest challenges is not about creating an integrated content marketing strategy, but implementing it across professionals with different skill-sets.
#3 – With content marketing, consistency and frequency matters a lot. Hence, producing enough content quickly becomes a challenge for many as it takes time, creativity and investment to produce each piece of content. For instance, posting a daily blog post would quickly gain you visibility in the search sphere as oppose to one blog post a week.
#4 – Churning out just any content to pump up quantity may end up using up your budget with little result to show for. It's about first identifying your audience, female? Male? Age group? Country? Preferences? Are they mostly on Facebook or Twitter? And customizing your content to meet that need. This calls for market research and truly understanding your target audience first.
#5 – One of the most debated challenges for content marketing is how to measure performance. Because the scope of content marketing is large, there is no one way to measure results. It depends on your business objectives. Is it content marketing on social media networks? Is it blogging for traffic? Or is it content marketing for SEO?
THE FUTURE
And we come to an end here with what to look out for in the short-coming future.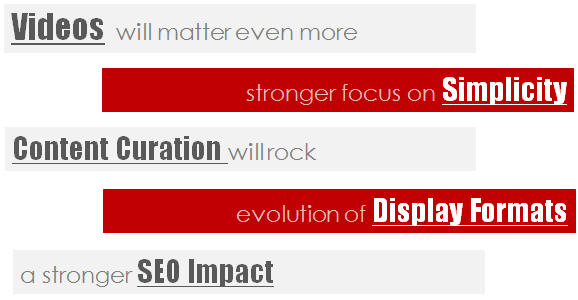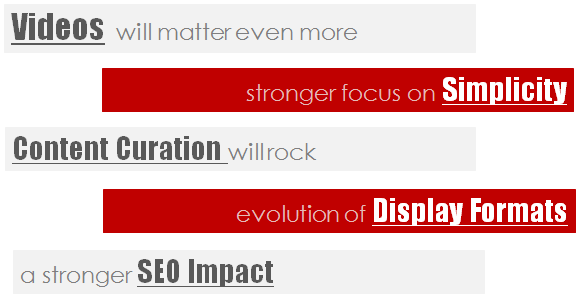 #1 – According to Cisco, videos will account for 69% of consumer Internet traffic in 2017.
#2 – In 60 seconds, there are 20,000 new photos shared on Tumblr, 347 new WordPress blog post published, 72 hours of YouTube video uploaded. Due to competition volume, the focus will shift to simplicity to stand out from the noise.
#3 – Content curation, is not the same as copy and paste. It's about sorting through information dumps and researching bits and pieces of data to come up with insightful and unique pieces of content. Done right, it a powerful content marketing strategy that we are sure to see grow in the near future. Today we see the Huffington post doing this successfully; creating conversations and engagement from curated content.
#4 – Already this year, we saw content in its more graphical form quickly gaining recognition and popularity: infographics and videos; followed by the appearance of channels for graphic content, such as slideshare, visual.ly, list.ly, spotify and paper.li. They are all new opportunities and channels for curated content to be distributed in new forms.
#5 – A stronger SEO Impact. Content curation brings stronger SEO to your web properties. This is due to the valuable content you're organizing and distributing besides the ongoing relationships your business develops throughout the process with other blogs and websites; citing back and forth in the form of links.
Download presentation here: Content Marketing Strategies for Mobile, Social Media and New Media Channels.