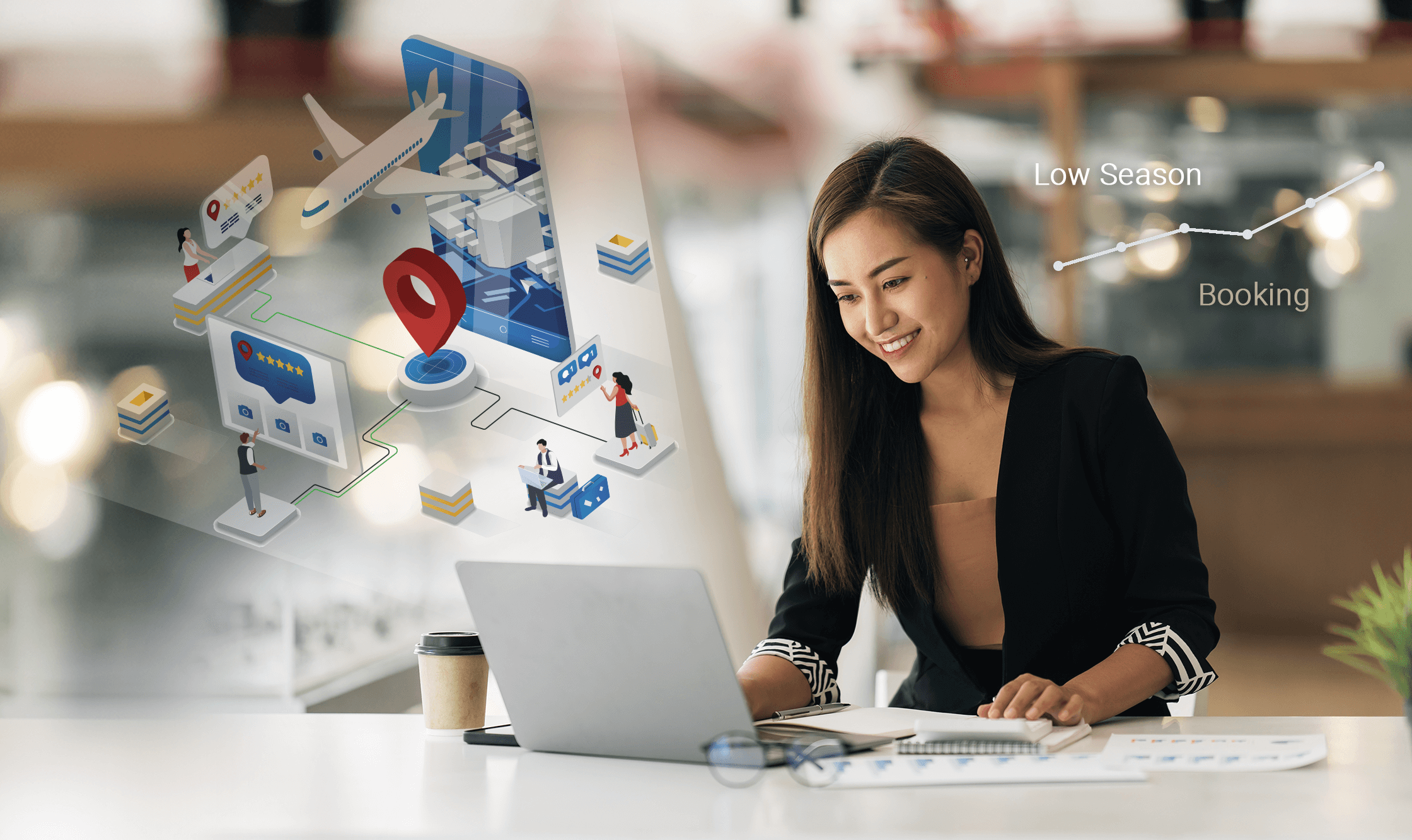 Low Season Hotel Occupancy
The Syndacast Team has conducted the study to help properties seek answers for their marketing efforts during the low season, maintain a steady flow of revenue and to better understand its opportunity.
Low season refers to a period of time when the demand for hotel rooms is lower than usual. This can vary depending on the location. We observed the low season for beach destination in Southeast Asia (Where our clients are located) generally refers to the months of May – October yearly. During low season, hotel rooms rates are lower and there are fewer crowds. However, the weather can also be less favorable for tourists.
Pros & Cons
However, before taking action, hotels must analyze their unique low-occupancy periods and trends. Is the occupancy linked to – weather patterns, guests' preference, or other events, such as local social activities and travel habits.
Take Note!
Here are some options for hotels to consider implement during the low season to increase the occupancy & revenue:
During a specific period of time of the year:
Lower costs for Airline, Hotel & Resorts
Luxury Amenities & Facilities at a Lower Price
Local Personalized Experiences with Less
Crowds during Peak Period
Land Attractions & Activities
For beach destinations during the low season:
Unpredictable Stormy Weather
Island Trips Cancellations
Limited Adventure & Beach Activities
Difficulty with Transportation
Limited Marketing Expense
Low Room Occupancy
1. Target Markets & Audience Groups
Targeted Markets:
Short Haul Markets – To allocate 70% of the total marketing budget towards last minute bookings.
Long Haul Markets – To allocate 30% of the total marketing budget to not neglect but fulfill the long booking window towards the end of the year & peak holidays.
Targeted Audiences:
Family Travelers (Friendly prices for Families during School Holidays)
Couples who look for their romantic anniversary trips
Cost-Savvy Travelers (Individuals who take advantage of offers/discounts)
Groups/Corporate Travelers (Company outings in Resorts and Venues)
Business Travelers (Combination of Work & Leisure)
Offers:
Offers that work well during low season:
Family Getaway, Summer Break
Flash Sales, Limited time offers, All-inclusive.
Value added spa, dining packages.
Group offers for big & small group size.
Room upgrades, complimentary laundry, early check in, late check out.
Stay Pay offers during extremely low period targeting on specific market.
Free Airport Transfer included.
Key-points!
Put the targeted markets, audiences and offers in mind, hotels can come up with the right offers
for the right audiences of the right markets.
Leverage all online marketing channels including social media, video, email marketing, SEO to get
high voice share along with performance channels such as direct bookings and OTA sponsored
listings.
Do put the focus for local market by partnership with local businesses, airlines to leverage the
efforts during the low season, this will help the hotels to take full advantage of last-minute
bookings, short public holidays, short stay break.
2. Run Effective Retargeting Ads

Utilize remarketing strategies on various channels are normally an effective way to recapture the
lost revenue from guests who have shown the interest in the hotels, specific service but not yet
made bookings. Here are few areas to look at when planning the remarketing strategies:
Identify targeted audiences based on the website behavior, such as visitors who have viewed
specific pages or added items to their cart without completing a booking.
Once the target audience has been identified, hotels should create customized ads that
highlight the hotel's unique value proposition and encourage potential guests to make a
booking.
Remarketing can also be used to target guests who have previously stayed at the hotel,
offering them loyalty packages or membership discounts to entice them to return during low
seasons.
Track the effectiveness of remarketing campaigns and adjusting them based on data insights,
hotels can optimize their remarketing efforts and effectively increase revenue during low
seasons.
Try it now!
The team at Syndacast can provide more specific recommendations for content creation, particularly in terms of ad level and keyword structure. We can advise on how create offers & express visually appealing and attractive content that stays true to the brand's message and voice. (For Example, Beach, Water Activities, Spa, Local uniqueness & more).
3. Highlight Hotel's Key Facilities & Amenities

Take advantage of hotel's facilities, amenities, services by highlighting the perfect vacation can be
within the hotel/resort. Everything is right here in within the hotel/resort without going anywhere
guests can have a very relaxing and fun fulling holiday.
Facilities & Amenities can be Infinity swimming pool, water slides, kid club, rooftop bar,
Oceanview restaurants, scheduled yoga classes and daily activities for kids and adults.
Key-points!
F&B Dining Experiences, Travel Excursions, Spa Packages, Kids' Club, Fitness, Co-working spaces and even Entertainment Venues could be suggested for every traveler.
4. Upcoming Holidays
Thailand (TH) :
April: Song Kran & School Holidays.
May: International Labour Day, Vishakha Bucha Day.
July: Asalha Bucha Day, Buddhist Lent Day.
August: Queen Birthday.
October: School Midterm break.
Japan (JP) :
April – May: Golden Week.
July – August: School Summer Break.
Singapore (SG) :
May: Labour Day, Vesak Day, School Break (4 weeks).
June: Hari Raya Puasa.
August: National Day, Hari Raya Haji.
September: School break (1 week).
South Korea (S.K) :
April: Arbor Day
May: Labour's Day, children's day, parent's day, Buddha's Birthday
June: Memorial Day
July – August: Liberation Day, School Holidays
September: Chuseok day
Hong Kong (HK) :
April: Ching Ming Festival, Good Friday. Easter Monday.
May: Labor's Day, Buddha Birthday, Dragon Boat Festival.
July – August: School Summer Holiday
September: Mid- Autumn Festival.
United States (US) :
April – May: Memorial Day. School Spring Break
July: Independent's Day.
September: Labor's Day.
October: Columbus's Day.
UK & Europe (E.U) :
April: Palm Sunday, Good Friday, Eater Monday. School Spring Break.
May: Labor's Day, Bank Holiday, Spring Bank Holiday, Ascension Day.
June: Pentecost, Whit Monday, Corpus Christi
August: Remembrance Day, Assumption of Mary, Summer School Break.
Australia (AUS) :
April: Easter Holidays, School Break
June: Queen's Birthday
July: School Break
Middle East (M.E) :
March-April: Ramadan.
May: Eid al-Fitr.
July: Eid al-Adha, Islamic New Year.
Foresight
This year, we are observing an increase in bookings from Singapore, South Korea and Hong Kong for short-haul beach destinations. Hong Kong & China have recently opened up its market without any travel restrictions, resulting in strong demand observed in Hong Kong. Multiple flights to beach destinations have also been launched from China as well as the Middle East.
Conclusion
In summary, hotels can capitalize on low season periods by analyzing the unique trends and implementing strategies to attract travelers during these times.

Hotels can take advantage of lower costs and provide upscale amenities and customized experiences to attract bookings.
Overall, recognizing low season periods as an opportunity and carefully plan and execute targeted marketing strategies to increase current occupancy or generate the brand awareness & interest for the peak period.
We treat your business like our own.